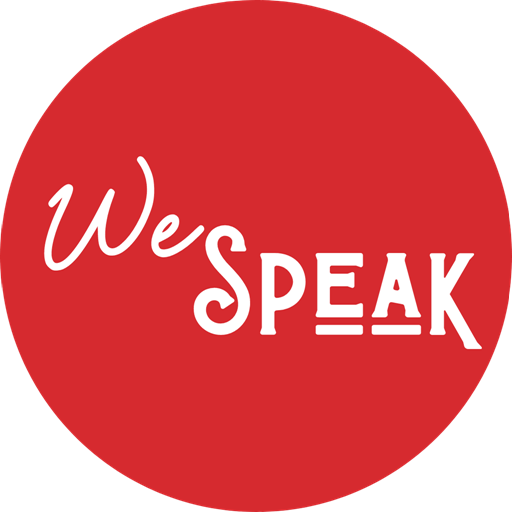 Hesketh Media has launched the world's first mobile App for the professional speaking industry. It is called WeSPEAK.
WeSpeak will revolutionise how professional conference organisers (PCOs) and bookers will find speakers, trainers and coaches in the future.
Are You A Speaker Booker?
The current model dictates that the PCO has to either contact a speakers bureau to source a speaker or do all the grunt work herself; spending hours trawling through speaker websites to narrow down a shortlist of speakers. It doesn't stop there, of course. The PCO then has to reach out to the speakers and ask for their bios, their fees and their availability. This is hours, if not days of slog work.
The WeSpeak App will drastically reduce the time it takes to source a speaker.

The booker will have immediate access to the speaker's:
Calendar (so that you know if the speaker is available or not)
Fees (so that you know if the speaker is within your budget)
Bio (all the information about the speaker and what he/she speaks about)
Contact details (so that you can reach out to the speaker instantly)
Reviews (find out what delegates are saying about the speaker)
Showreel video (see the speaker in action)
The goal for WeSPEAK is to have "1000 speakers in your pocket" (stealing from Steve Jobs's 1000 songs in your pocket). The information will be available 24/7 and allow end users and event planners to source a speaker from their phones whenever they want.
WeSpeak – Launched on Google Play
Are You A Speaker?
How would it be for you if you could get your information in front of thousands of speaker bookers both locally and internationally? What would it mean to you that when you get a booking you keep your full fee and don't have to pay a percentage to a speakers bureau? How would it feel to get more professionals speaking engagements more consistently?
The WeSPEAK App can go a long way to helping you achieve this.
WeSpeak – Launched on Google Play
Upload your own profile. Your profile includes your bio, image, showreel, your own logo, and fees.
Manage your own calendar. Clients will be able to see your availability. Immediately.
Inquiries. You receive all inquiries directly to your dashboard and registered e-mail. No third parties involved – These are just yours!
Get found more easily. Don't be just one of 112 000 000 (for motivational speakers) results on Google (no exaggeration!). Use tags within the App to make sure your clients find you easily and quickly.
Next level social proof. Your clients can leave you reviews, after they've booked you via WeSPEAK.
Global reach. Unlike Google with it's geographical, localised, search results, your profile can be found by everyone on Earth who has downloaded the App and is looking for a speaker on your topic, not limited to where they (or you) live.
Cutting edge marketing. With features like Push Notifications, Home Screen "Featured Speaker" Banner Advertising, an Events Section and a Podcast hosting facility. there is nothing like this available to you as a speaker/trainer/MC, anywhere else.
No time? Too busy to manage your own profile and calendar, but still want in on the marketing opportunity? No problem – we can manage it all for you.
Investment. R295 including VAT per month or USD23, billed monthly. Or R9.83 per day (or USD0.76)
How do you get the App?
Find it on Google Play
For iPhone users. The App is not yet live on the Apple App Store but you can still get a sneak peek on this back-end URL where you can see what the App looks like and where you can still upload your profile and start marketing to Android users across the global industry, while we wait (not-so-patiently, we must admit) for Apple to catch up with us.
Like WeSpeak on Facebook – CLICK HERE