Wenzile Madonsela Msimanga is a Social Entrepreneur, Mental Health activist and Democracy Defender. She is passionately dedicated to closing the gaps that social injustice creates in South Africa and Globally. She dynamically advocates for and is involved in sustainable programs that are geared towards empowering people specifically through enterprise development and mental wellnes advocacy.
Having overcome many battles in her life, Wenzile Madonsela is a passionate advocate for mental health, emotional wellness and the quest to live a meaningful life. Using her platform as a public speaker, Wenzile raises awareness regarding the accessibility of mental health, as well as the importance of emotional intelligence and wellness.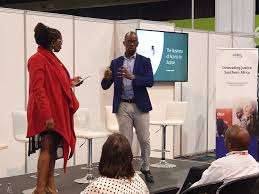 Her own journey with mental health has taught her an invaluable lesson about perseverance, strength and vulnerability, and she aims to use her journey to educate others about the importance of compassion and meaning. Her goal is to help unlock your intrinsic motivation, and forget about extrinsic factors that influence our sense of belonging and self-worth.
Teach clients how to self-actualise, harness their inner power over their emotions and ultimately reach a point of self-validation – where they find inner acceptance.
"We rarely focus on our emotions, and how they work", says Wenzile. And this is what drives her – to help clients understand how to be in harmony with their emotions and to increase their EQ, or emotional intelligence. She is an internationally accredited emotional intelligence life coach.
As transformation agent, Wenzile helps her clients with the following:
Self-reflection
Decision making
Future planning
Creating life changes
Emotional Intelligence
Wellness and balance
Contact Us at Conference Speakers