Tom Sligting (AKA Tom Lightning) knows like no other how to play a room with energy, knowledge, and humor. Speeches to be talked about – Speeches that make a difference at an event Keynote speaker Tom Sligting is one of the first comedians in the Netherlands.
With almost four thousand shows, he can call himself the most requested comedian in the Netherlands. Since 1994 he has also been providing tailor-made shows for business and government. With almost a thousand of these shows, he is a true specialist in that field. The wrap-up show, where he writes his speech at a conference on the spot, is more than special.
With all this experience, Tom Lightning is now also a Keynote Speaker. With his topics "presenting" and "humor", he can seamlessly connect his story to your event. Educational, energetic, and humorous. Tom can also make a difference as chairman of the day. Always sharp, but within the limits. Sincere, energetic, and knowledgeable.
There will never be a "dull moment" during the day when Tom is on stage or running into the room. His book The Speechbible is published in 2018.
FORMULA to disrupt yourself
Let's not talk about change; let's talk about taking action to find a better version of yourself to make the difference. The formula is a great takeaway.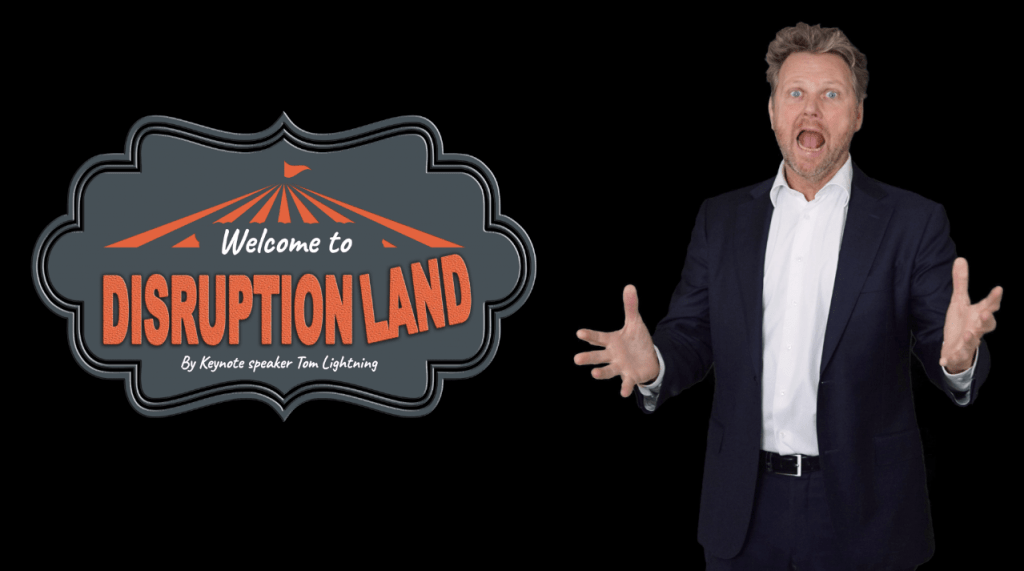 Engagemend
They will be engaged. I deliver high energy, reflection, enthusiasm, and excitement that lasts long after the event.
Online Studio
I have a State-of-the-art Studio with professional sound and light. My possibilities for hosting or giving an online speech are huge.
Global Speaker
I am a professional member of the PSA Holland (Professional Speaker Association)
Creative answers
Find your answers at places where nobody looks. Great examples in the Keynote Speech. Beautiful slides and films.
Interaction
They will laugh and they will leave with a new perspective that helps them deal with the genuine stresses of change.
Tailor-made
For 25 years, I have made tailor-made shows for events, and more than 4000 performances.
Virtual Lobby
Before the meetings start, I can welcome everybody in the Virtual Lobby. Explain the program and tell some rules.
The Virtual Bar
In the break, we can go to the Virtual Bar. Unique in Webinar land.
Your Idea is welcome
Do you have an idea of what you would like to do? Contact me and we will work it out.
Your slide show?
Do you have your own background slides? Maybe a movie? Anything is possible.
Welcome to Disruptionland
It is now or never for personal disruption. Tom Lightning created this Keynote two years ago. (not knowing about the crisis we are living in now…)
The perfect online eyeopener for any business event to motivate your staff.
A turbulent show offering refreshing views, pungent questions, interaction, and humor. What about a stand-up comedian delivering a Keynote speech on Disruptive innovation, you might think? Well, you can say the same about an adolescent creating a social platform in his garage and subsequently becoming a billionaire. That´s how you can look at it. I do. If you are somehow familiar with economics, you are aware of the volatile and bizarre world we enter. An era of unlikely business opportunities as well as unpredictable disasters. In short, exciting times! For this reason, my Keynote promises to be a true eyeopener for anyone involved in the business.
Tom has 26 years of experience in how to deliver a message. He made hundreds of small movies for social media and TV.
Topics Covered
Welcome to Disruption land
Contact Us at Conference Speakers