Rory Steyn – Mandela Bodyguard was appointed to the Presidential Protection Unit in 1996.
Rory was team leader of President Nelson Mandela's personal security detail and handled the protection of the former President both nationally and internationally. Book Rory through Conference Speakers
Prior to this, Rory had a long and accomplished history in the South African Police Service, where he specialised as an investigator, an intelligence field worker and section head of the Johannesburg VIP Protection and Bomb Disposal units.
With well over 30 years of hands-on experience in policing and private security.
Rory has also served on the Security Directorate of the ICC Cricket World Cups 2003 and 2007, chaired the Security Directorate for the ICC World Twenty20 and managed sports team protection to SA since India's first post-apartheid cricket tour of South Africa in 1991, the 1995 IRB Rugby World Cup and the 1996 CAF African Cup of Nations.
NSA was appointed as the safety and security consultants to the inaugural and highly successful Indian Premier League (IPL) in 2008 and in 2009 when due to security related issues, the tournament was relocated to South Africa.
NSA will continue to provide these services for future IPL competitions in India.
Rory is proud to have worked on the 2010 FIFA World Cup on home soil where he coordinated and managed all NSA operations in support of FIFA's commercial partners.
Rory is an excellent Motivational Speaker for your conference events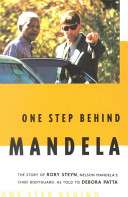 Looking at Nelson Mandela's presidency from the view of his chief bodyguard, Rory Steyn, this tribute contains behind-the-scenes information and anecdotes.
It also describes how Steyn, a traditional white South African, came to the realization that he would risk his life for Mandela.
View listing on WeSpeak Global