Luc Van der Hofstadt is an Executive Business Coach at the Mentally Fit Institute since 2000.
He holds a Masters in Law from the University of Antwerp (Belgium), is a Certified Coach from the Institute of Neurocognitivism and is a Belbin Team Role Accredited Trainer.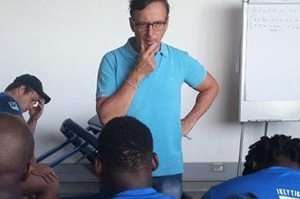 He teaches at various international Business Schools such as Insead Paris and is co-author of the book "Management Assistant".
He regularly directs team and individual coaching sessions for Executive Committees, Managers and Individuals for corporate and institutional clients in various countries around the world.
As an international facilitator and motivational speaker, Luc coaches and inspires on team dynamics, advices individuals, leaders and managers how to manage their own energy, their team members' energy and their organizational energy in our diverse world.
He also manages the Mentally Fit Institute South Africa which he founded and now available to book through Conference Speakers
Luc van der Hofstadt
Energized people and energized teams guarantee higher levels of performance. Energy Management for Performance is the main focus of the Mentally Fit Institute training and coaching programs. Inspired by the hard science behind elite sports coaching, our coaches and trainers will constantly challenge and boost your staff to improve personal energy and team efficiency.
Over the last 20 years, the Mentally Fit's team of coaches has developed a unique methodology to train all types of performers from Olympic teams to high-profile CEOs and team managers, channeling their energies into winning and becoming top-class performers and high-performing teams.
The simple and pragmatic Mentally Fit methodology is changing the way companies and organizations are leading their people and doing the business, and we have worked with over thousand global clients, including major international brands. Follow CSI on Twitter
Luc van der Hofstadt
How to learn for one-self and be able to use and transmit the Mentally Fit tools, bringing your teams towards top performance?
Energizing the organization: fostering winning mindsets in a Collaborative Culture
Energizing teams: the key ingredients of
Group Dynamics and Team Performance.
Energizing individuals: the interaction of the 3 energy batteries (IQ, EQ, PhQ) to capitalize on your full potential
Energizing champions: Detection- Development-Retention of talent (High Potentials & High Performers)
KEYNOTE:
Keynote speaking is a mini-training: it opens the minds, creates a common language and gives a collective impulse to your organization.
Different subject contents to choose among Mentally Fit's main topics.

Interactive and creative animation.
Maximum impact in a minimum amount of time.
TESTIMONIALS:
VIDEOS:
DOWNLOAD PDF KEYNOTE PROFILE