Landie Stevens has been involved in various aspects of sales and business management over the past twenty seven years, seventeen of those years have been within a senior management role and over the last eight years been running her own national coaching, training and consulting platform, both face to face and online.
Her scope of team management has ranged from four to two hundred and fifty members and has spanned across various industries over the years. This gives her a 360- degree oversight to assist up and coming Managers as well as assist those that need fresh insight. She understands sales at its core, the sales cycles, the processes, the internal battles as well as the silent struggles Managers face daily, as well as how this affects the Sales Team and ultimately the results.
She is passionate about coaching, training, growing and equipping Sales Managers and Business Owners from all walks of life. Especially those that have moved up the ranks without any formal guidance or training, which often has a knack of happening.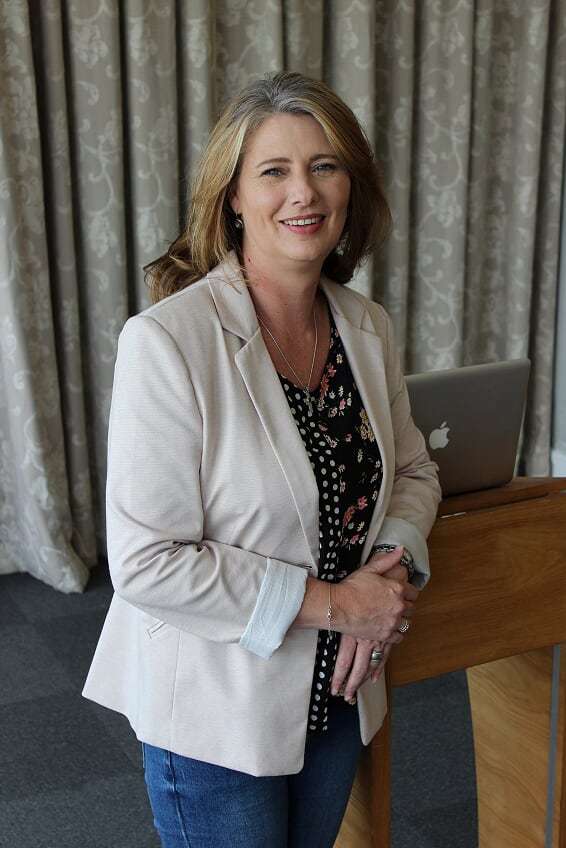 HER CAREER
Landie Stevens understands how an organisation functions and what is expected from the Manager to make the organisation successful but has the keys to unlock the potential to see all parties flourish.
Landie has implemented, coached, and trained key methodologies to many organisations to create a sustainable, robust solution that stands the test of time. Landie has actively implemented these processes that could be industry specific, as well as measurement tools that could be company specific. Over the years she has developed proven solutions to first recognise potential pitfalls and then overcome them, prior to them becoming detrimental.
What Landie brings to the table is a fresh set of eyes to uncover underlying potential areas of concern, but also those that are in plain sight that have been overlooked or avoided.
HER PASSION
By developing a canny ability to analyse, evaluate and solve key issues and resolve frictions both from a person or process perspective she has positioned herself as a solutions provider. In some cases, Landie has been described as direct but also sensitive to see what motivates or demotivates individuals and thus is trusted to bring out the best in both Managers and Sales Teams.
She shares personal, real examples of triumph and failure and at the same time offers some tried and tested tools, methodologies, keys, and experiences that have helped many Managers and organisations rediscover a preferable way. Landie endeavours to equip those who have never been exposed to what a true Manager could achieve if given the right guidance
It is Landie Stevens passion to share and impart these gems in order to empower and equip individuals so that they can empower others.
WE ENCOURAGE, EMPOWER AND EQUIP THOSE THAT ARE WORKING TOWARDS OR ARE ALREADY LEADING OTHERS …
…specifically within the Sales Management spheres or those that are currently in a management position. In today's economy the Sales Manager is expected to be a superhuman, a mere person that needs to be able to run the sprint and a long-distance race, and then to add some excitement, there are hurdles. In some cases, those hurdles are impossible to jump over for the normal human. Then you are also expected to win each and every race. If you do win, they make the race longer to test your endurance, or shorten the time to test your speed.
COURSES:
The Faces of a Sales Manager
Are you an up and coming Salesperson ready to take on the role of managing a team OR a seasoned Sales Manager in need of some fresh insight, direction and tools. Alternatively you could be a Senior Manager, managing a group of Sales Managers and you have utilized all avenues to keep them motivated, on target and have shared all your experience and knowledge and need something new and fresh?
The Face of Effective Online Management (standalone course)
Because a fresh outlook, a new spin on things hearing real, personal experiences can unlock what you were missing or give you the tools to reach a new level. Almost shake off the cobwebs and bring back to life what was dormant. During this course Faces of a Sales Manager Landie Stevens will be taking you through some key topics that I have personally managed through, coached, and trained on in the last 27 years. The course will be a combination of theory and personal real stories of how I failed and overcame obstacles, how I dealt with some difficult situations and how I now help a whole range of organisations in multiple industries overcome these very same obstacles.
Faces of a Sales Manager Mini Course 1
What are the topics addressed in this course?
Implementing an Effective motivation model
Understanding what motivates and demotivates individuals
What is a great Sales Manager, what is the benchmark and what is expected from you?
Identifying and executing a good strategy
Customer segmentation
The difference between a Coach and a Manager
We will also be solving the conundrum around the vicious cycle of incentives, uncovering what they are, their pitfalls and how to measure them effectively and accurately
Only to name a few, the list is endless.
Faces of a Sales Manager Mini Course 2
Faces of a Sales Manager Mini Course 3
Topics Covered
The Faces of a Sales Manager
The Face of Effective Online Management (standalone course)
Faces of a Sales Manager Mini Course 1
Faces of a Sales Manager Mini Course 2
Faces of a Sales Manager Mini Course 3
Faces of a Sales Manager Mini Course 4
---
Contact Us at Conference Speakers and follow on Facebook