Desiree-Anne Martin believes in the inherent ability for anyone to change. Her mantra is that there is hope, always, and she is a Change Facilitator and Inspirational Speaker.
Desiree-Anne has her Postgraduate Diploma (with Honours) from UCT and is a Honorary staff member at WITS University where she is a lecturer and consultant to the Family Medicine Centre. She also supervises Masters students with their dissertations in Creative Writing at the University of Cape Town.
She is a Registered Specialist Wellness Counsellor, specialising in addictions care, mental health issues and trauma therapy, and has worked together with adults and adolescents to help them overcome drug and alcohol dependence, eating disorders, sex addiction, gambling, codependency and other self-defeating behaviours for the past 13 years. She works with family members affected by addiction too, as no lives are ever left untouched by the illness.
Desiree-Anne also helps individuals work through trauma associated with physical, sexual, psychological and emotional abuse. She is a Dialectical Behavioural Therapy facilitator, imparting skills for how to deal with intense emotions, high levels of stress and the impact of mental illnesses.
A mentor for the Allan Gray Orbis Foundation and the National Mentorship Movement, she offers of her time, support and guidance to university students and young entrepreneurs. She is a member of the Executive Committee of the Life Righting Collective, an NPO whose vision is to heal South Africa's fractured past through creative self-expression, and the writing and sharing of personal stories. She is the co-founder of and clinical advisor to the #IAM Collective, a social movement focussed on changing and positively disrupting the collective narrative that surrounds gender-based violence. She is also a member of Woman Zone Cape Town, an organisation who aims to uplift and empower women from diverse cultures, ethnicities and disciplines using a variety of social and artistic platforms.
Change Facilitator/ Inspirational Speaker
Desiree-Anne Martin is an award-winning published author, essayist and poet; her short stories and opinion pieces on racial identification, feminism, gender-based violence, abuse, sex work, addiction and social commentary on the future of children living in the climate of COVID has appeared in print anthologies and corporate annuals; and her poetry in her self-published book 'believe more deeply', in print journals, e-zines and poetry websites.
Her memoir 'We Don't Talk About It. Ever' which has been described by Barbara Boswell, acclaimed academic and award-winning author of 'Grace: A Novel', as "brilliantly-written and wrenching… whose prose transports you through a whirlwind of emotions".
It chronicles Desiree-Anne's life struggles which include childhood sexual abuse, family dysfunction, multiple addictions, toxic relationships, struggles in recovery, and mental health concerns. Her choices led her to becoming an intravenous heroin addict and sex worker. It is ultimately, however, a story of redemption and hope. She has now garnered over 17 years of sobriety.
As the director of her own company and a therapeutic group practice, a lecturer, workshop facilitator, wife, full-time mother and part-time warrior woman, Desiree-Anne would like to share with you what she has learnt about changing adversity into opportunity, and – in doing so – how to find your purpose. Available through Speakers Inc., she would like to show you how to unveil your truth, find your authentic voice and speak your truth. She would like to show you that there is no failure in asking for help and no shame in showing vulnerability.
Desiree-Anne offers follow-up Corporate Wellness packages that are tailor-made to suit the needs of any organisation's employees, including individual counselling and interventions, stress and emotional management, education around addiction, mental illness and trauma as well as support, and access to ongoing group or individual therapy.
She is also available to address high school learners and offers workshops on issues such as healthy versus unhealthy relationships, boundaries, high-risk behaviours and sexual consent.
Desiree-Anne Martin considers herself an "art-ivist" and, through writing and speaking, is a vocal advocate for the destigmatization of addiction, abuse, trauma and mental illness. She believes that everyone is impacted in some way by one or more of these issues. She wants you to know that help is always available. And that, sometimes, it finds you.
Books: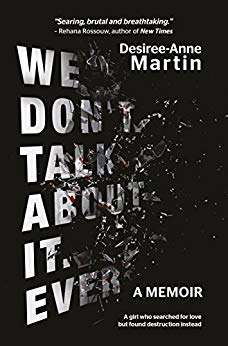 Videos:
Testimonials:
"Desiree-Anne Martin is such a dynamic, engaging speaker that we at Cedar House felt incredibly privileged to have at our school assembly on Wednesday, the 10th of April 2019.
Her keynote presentation was so received by our students as the content truly resonated with them. As she shared so openly and honestly about how she has navigated life's challenges as well as the mental and addiction crisis we face today, our students were made to feel comfortable enough to ask some deep and vulnerable questions.
Desiree has an amazing ability to connect with her audience and to stay connected for the duration of her presentation. Her story was powerful and her authenticity was raw and cut through all economic and social status.
Her drive home message encouraged each and every one of us to embrace our unique story that has molded and shaped us into the person we are today. After her presentation, Desiree made herself available for individual conversations and a chance for our students to experience her sincere kindness.
We genuinely thank her for the gifts and life lessons she shared with us and we look forward to having her speak at Cedar House again soon."
Simone Sangster, Social Worker, Cedar House Student Wellness Department.
Contact us at Conference Speakers and subscribe to our YouTube channel