Alex van den Heever for the last 20 years, and Renias have worked together conducting specialised safaris, training animal trackers and presenting their inspirational presentation, The Power of Relationships.
Their work has taken them throughout Africa, including Brazil, Peru, North America, UK and Australia.
Their journey together has taken them from tracking leopards at Londolozi to following grizzly bears in Yellowstone National Park and presenting internationally.
Alex and Renias have been the subjects of several TV news documentaries, most notably, CNN International and now available for Training Simulation – view Training Profile. These two men have broken through the barriers of their backgrounds and formed a bond which has changed both their lives forever.
This is a relationship which is seen by many as a model in a democratic South Africa. Made possible by the Rupert Family Foundations, Alex and Renias' are founder members of the Tracker Academy.
Presentation Details
Presentation highlights: four true stories
Renias saves Alex from Leopard attack
Alex visits Renias's village, Dixie
Renias travels to England – his first trip from the bush
The poacher
You will gain the following from the presentation:
How to build trust in difficult circumstances
How to create an environment conducive to mutual understanding
How to get to know your colleague from another culture
How strong culture creates big benefits
How to leverage the power of language
How to realise the power of diversity in the workplace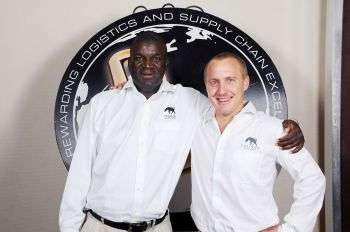 Alex's greatest fascination is traditional skills of animal tracking. He has dedicated much of his life to learning the ancient skill, eventually qualifying as one of a handful of tracker assessors in 2004 – the youngest ever to achieve this feat. During the last decade, Alex's commitment to tracking has afforded him the opportunity to track jaguars in the Amazon jungle, bears in California, grizzlies and wolves in Montana and the famous black-mane lions of the Kalahari.
All of these adventures are experienced with his long-time friend and mentor, Renias Mhlongo. Alex van den Heever is the founder of Nhlayisa Power Supply, a company which develops fortified foods for rural markets and bulk feeding. His dream to establish a tracking school started when he was paired with Renias Mhlongo as his tracker at Londolozi.
In 2010, Alex van den Heever – Wildlife with encouragement and support of Mrs Gaynor Rupert founded the Tracker Academy – the first school of its kind in Africa. Tracker Academy stands as a training division of SA College for Tourism which operates under the auspices of the Peace Parks Foundation.
In addition to his conservation work, Alex has worked as a facilitator for Vulindlela Transformational Services conducting diversity training. Here he led courses aimed at facilitating a better understanding between black and white people working in corporate South Africa.
Alex and Renias continue to work together in the bushveld, as well as to conduct motivational presentations in South Africa and abroad. Their inspirational presentation, The Power of Relationships, has relevance for both local South African as well as international audiences. Alex is married and resides at Londolozi Game Reserve, Mpumalanga in South Africa.
Renias Mhlongo was born in a mud hut in what is today the greater Kruger National Park. The Mhlongo family sustained themselves on the land by growing vegetables, tending cattle and hunting small game. Renias, almost as soon as he could walk, was sent out to tend the family's cattle herd. He is one of the last people to be raised in the original traditions of a Shangaan hunter-gatherer.
During forced removals of Apartheid regime, Renias and his family were sent to a settlement called Dixie. Without any formal education, he was forced to seek work at a game reserve as a labourer. In 1984 he became a tracker at Londolozi – thereby putting to use his exceptional skills as a naturalist. Over the next 25 years Renias played a major role in habituating the world-famous leopards of Londolozi.
Renias has conducted tracker training workshops in South Africa, Brazil, Kenya and North America – teaching people the traditional skills of trailing animals. In addition to his extensive experience with African animals he, with Alex, has tracked animals all over the world. Using his tracking skills Renias has also conducted small mammal surveys for game reserve owners in South Africa. In 2010, Renias became a founder member of the Tracker Academy. Renias has travelled internationally, and in so doing has touched many by the gracious manner with which he teaches people about African wildlife, culture and philosophy. He is a natural story teller.
He taught Alex the art of humorous storytelling, which comes out strongly in their motivational presentation, "The Power of Relationships". During their inspirational presentation, Renias provides personal insights to relationship building, as well as to tell a few stories, which he does in his mother tongue, Tsonga, and which Alex translates for the audience Alex & Renias's keynote:
Relationships & Team Work in the Workplace with humour, sensitivity and humility, Alex and Renias demolish the walls that isolate each one of us. They tell their story of a path to profound mutual understanding. Their story is a tale of contrasts: white and black; man, and boy; apartheid and unity; third world and first world.
Alex uses the real-life story of his life as a game ranger at Londolozi Private Game Reserve and his relationship with tracker Renias Mhlongo to convey transformational wisdom and insights. Alex van den Heever demonstrate how to break down cultural barriers utterly in the work place and foster generosity of spirit among people. It is not a methodology they offer but rather an ability to inspire the audience and open their minds to their potential as individuals and as a team.
The motivational presentation culminates with a few insightful and extremely entertaining stories told by Renias in his mother tongue, Xitsonga, which Alex translates for the audience. This inspirational presentation has direct relevance for both South African as well as international audiences, follow CSI on Twitter
The keynote is based on four true stories:
Leopard attack
Visit to Renias's village
Dixie
Renias's first trip outside South Africa
The poacher story
The presentation highlights the following issues relating to diverse relationships:
Building trust in difficult circumstances
How to create an environment conducive to mutual understanding
How to get to know your colleague
How strong culture creates big benefits
Dealing with conflict
Importance of mentorship
Alex van den Heever
Deloitte Africa had the pleasure of securing Alex van den Heever and Renias Mhlongo to present at the 2014 Deloitte Africa Leadership Summit on 18 September 2014.
'Outstanding' simply does not do justice to their presentation. Alex and Renias enlightened our senior audience of partners and directors to the power of relationships – in nature, society and business.
This inspiring talk was authentic, a real-life example and proof that many great things are possible and you can create a distinct advantage and make an impact that matters when you dig a little deeper and discover the enormous power of connecting! Kerry Naidoo, Deloitte, November 2014