There is no better choice than an independent key note speaker like Albert Gumbo. Senior management are constantly looking to motivate staff. He is a thought provoking speaker and trainer who will motivate staff when companies struggle to light the spark in their employees.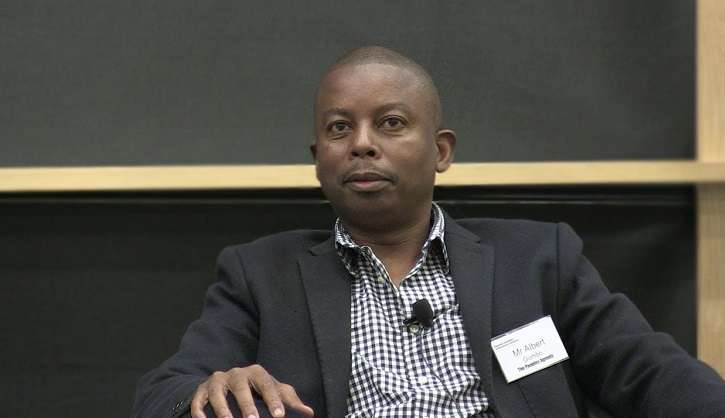 Change agent
With over a dozen years of management experience in multi ethnic, racial, national and international environments, in addition to being well travelled, Albert easily slots in to any company environment to make a positive and sustainable impact through his speaking.
Winning teams
Successful teams are made up of winning individuals and when the individual members of a team respond to Albert's motivation, the company stands to benefit. His topics are calculated to challenge individuals to take stock with a view to making changes where they are needed to take their lives to a new level.
Soft skills training
Having run two training institutes in the extremely challenging economic environment of Zimbabwe, Albert has the experience and competence to run programmes on leadership, management and supervisory development for trying times. As a globalised world becomes increasingly more demanding and responsive to events far from African shores, Albert Gumbo will help management and staff cope with the pressure that comes from events both foreseen and unexpected.
Albert's portfolio includes the following:
P.A.S.S.I.O.N. (a motivational talk)
Coping in stressful economic times (Motivational talk)
Emotional Intelligence for personal mastery

Aimed at all levels of staff and customised to suit audience

One day workshop with manual

Self-assessment exercises (can be done online)

The Leadership Engine

Aimed at senior management

Discover the four Es of leadership

One day workshop with manual

The Power Of Habit

Lessons in personal development

The Discipline of Market Leaders

Aimed at senior and middle management

Strategic choices for companies

One day workshop with manual

Customer Service Excellence

Aimed at all staff and customised for different audiences

Developing a culture of service in organisations

The Cost of Complacency (an anti-fraud programme)
He is an accredited facilitator for the global SMI programme which is offered in 60 countries.
contact us below at Conference Speakers