Ashwin Willemse – Motivational Speaker
Ashwin Willemse – Motivational Speaker remarkable life story has been an inspiration to all people from all walks of life. Suffering as a youth with drug addiction, gang involvement, depression and poverty he made a choice to leave all that behind, and embark on a new journey in search of a better life.
Rugby was the medium, which gave him the freedom to accomplish this. Through perseverance and determination he has overcome enormous personal and professional challenges. Now available through Conference Speakers
Ashwin Willemse – Motivational Speaker
After winning an IRB Under-21 World Cup gold medal forSouth Africain 2002, the hard-working wing joined the Lions and experienced playing in the Super 12.
His extreme speed and power contributed to him being selected for the 2003 Rugby World Cup Squad. His 2003 achievements were honored with three awards at the annual SA Rugby function- Player of the Year, Most Promising Player of the Year and Player's Player of the Year.
Despite a series of career-threatening injuries, his determination, confidence and optimism helped him to regain his position inSouth Africa's 2007 Rugby World Cup squad.
With his positive attitude and approach to challenging circumstances he is an embodiment of what it takes to become a success and rise above your circumstances. He believes that, it's not what happens to you but how you respond to it that matters most in life, in business and in professional sports.
As a Motivational Speaker he captivates his audience by taking them on a journey through his life, sharing with them how he managed to make better choices and become a success even in the worst of situations. Faced with extreme adversity he has managed to make the best of his life and turned his obstacles into opportunities.
He has a passion for helping people better their own lives and creating limitless beliefs within themselves and follow Ashwin on Twitter
Ashwin Willemse – Motivational Speaker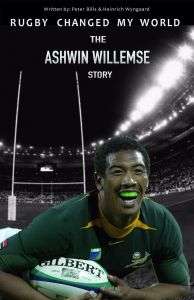 This book chronicles Ashwin Willemse's life and sports journey. Born into impoverished conditions by a teenage mother, an absent father and believing that
acceptance and belonging was only found in the brotherhood of a gang, he shares some of the spine-chilling hardships that he had to endure.
Despite all of this, he rose to the highest level that professional rugby has to offer, representing South Africa in two Rugby World Cup tournaments and awarded all major
rugby awards – including Player of the Year – in his Springbok debut season in 2003.
Ashwin's story takes us into a gripping world of a tug-of-war between light and darkness. It helps us understand how a young insecure boy rejected not just by a cruel
world but also by his own father, could turn into one of South Africa's most loved rugby heroes.